3 Bedroom Units
Gated community with amenities: on-site manager's office, US postal box cluster, 2 fenced-in swimming pools, playground, full basketball court, pavilions, BBQ areas, exercise yard, commercial trash container on each street and 1 cardboard recycling container.
31 Dasco Court, Perez Acres
2 story Townhouse
3 Bedroom / 1.5 Bathroom Renovated Unit
Appliances: Refrigerator, Gas Stove w/oven, Washer, Dryer, New Central A/C and 1 gas tank
2 Covered Parking Stalls
Rental Amount: $1,800.00 per month
Security Deposit: $1,800.00
UNIT AVAILABLE JAN 2021
For more details, please visit the Perez Acres website at: www.perezacresguam.org
For more information or to schedule an appointment to see the unit, please contact Jamie Torres @ 649-1535 or 685-1524 or via email @ properties@idiguam.com
#17 Baki
3 BDRM, 1.5 BATH
For more details, call (671) 687-0204
#08 North Cupa - 3 BDRM unit w/ 1.5 BATH
This three bedroom unit is newly renovated with new kitchen appliances, spa-like Master Bath w/ double sinks &
fresh details throughout. It is decked w/ a reverse osmosis system in the kitchen & a whole house water softener.
WiFi is included for the first year & comes w/ basic Cable TV. This is a Non-smoking unit situated near one of the
community swimming pools, the playground & basketball court. Covered patio, two parking spaces, pet friendly.
First month's rent & security deposit of $2,400.00 Negotiable
Contact Judy Booth @ (671) 864-2410 OR (671) 482-7775
PEACE & Quiet of a GATED-COMMUNITY!
Gated Community, nicely landscaped with 2 pools, basket ball court, BBQ areas and well maintained throughout the complex. Popular neighborhood for Individuals and Families.
3 Bedrooms / 1.5 Bathrooms
2 Story Town Home
1,340 Square Feet
Appliances: Refrigerator, Stove w/oven, and Dishwasher.
UNIT READY TO OCCUPY
Town home for Lease $2,205.00/ Monthly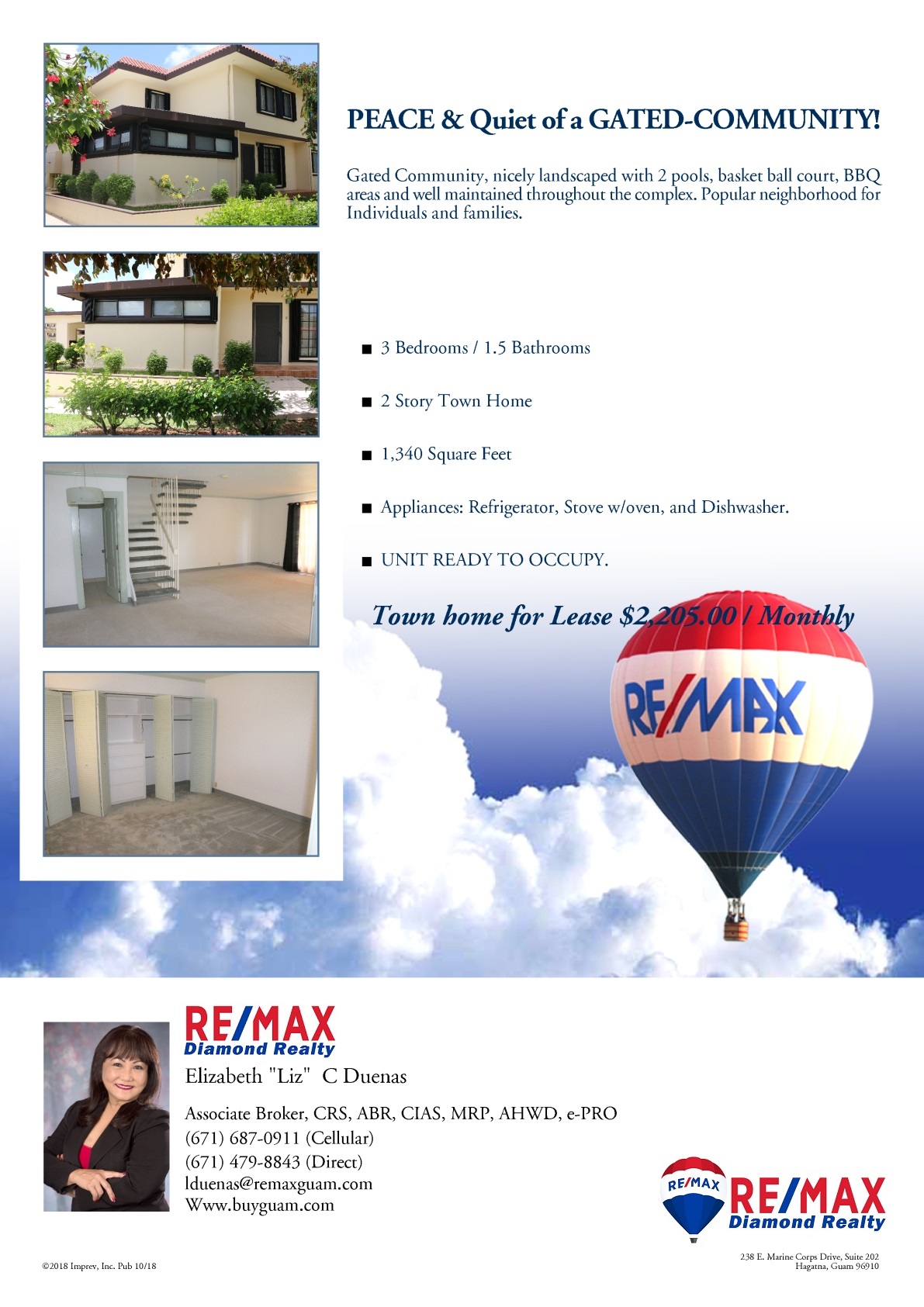 Gated Community w/lots of Amenities!
Gated Community – offers great amenities for your family to enjoy. 10-15 minutes away from AAFB.
3 Bedrooms / 1.5 Bathrooms
2 Story Town House
Appliances: Refrigerator, Stove w/oven, Washer/ Dryer.
Furnished Unit.
Lease negotiable with a 2 year lease, completed tenant application, and a copy of ID's.
$2,200.00/ Month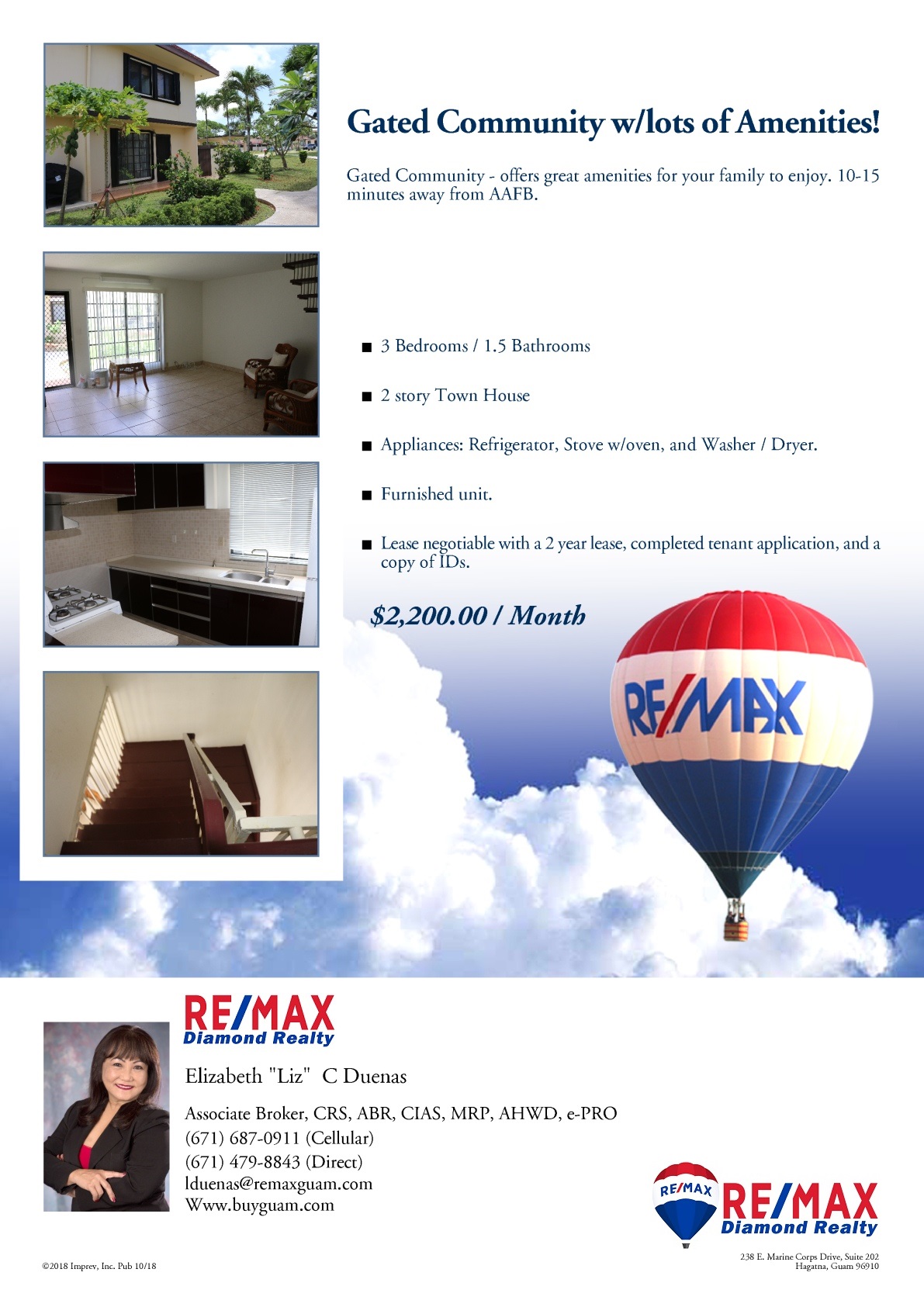 #14 FELIX COURT
3 Bedroom / 1.5 Bath
Covered Patio
Brand New Stainless Steel Kitchen Appliances
Newly Renovated Town home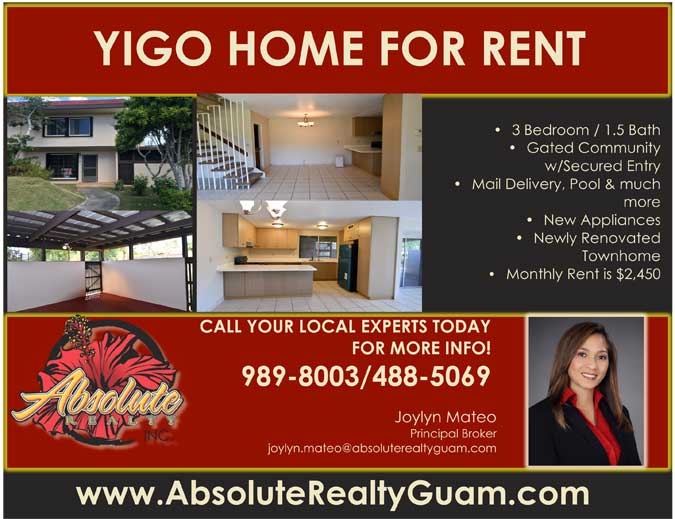 $2250 / 3br - 1200m2 - Great launch pad (Perez Acres, Yigo)
"Have a little fun everyday!"
This place is a great launch pad with which to do just that. Enjoy all the adventure and culture Guam has to offer while calling this, 3 bedroom, 1 1/2 bath Townhouse, home. Situated in Perez Acres, Yigo. This gated community has awesome outdoor amenities, swimming pools, playground, basketball court.
Unit renovated from stem to stern
Move in: first month rent & security deposit of $2250. Cable TV included.
For More Information, Contact: Ms. Judy Booth #482-7775