Community Highlights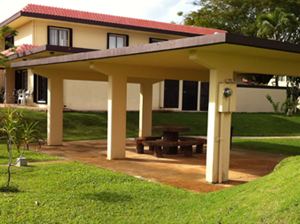 Perez Acres is an ideal place for families. In addition to all the amenities previously describe, the neighborhood is green, clean, safe, and quiet. We take pride in being an extremely "green" neighborhood. There are many trees and plants throughout Perez Acres. Our greenery is well maintained by an in-house maintenance staff. In fact, we have a plant nursery on site as well.
We keep Perez Acres clean by making it easy for our residents to dispose of their waste. All common area pavilions have trash receptacles, including the pools, playground, and basketball court. Our pet friendly residents must pick up after their pets as well.
Perez Acres is safe. We have 24 hour security on the weekends as well as a gated entrance. We have a neighborhood watch program in effect as well.